Losing a tooth makes you afraid to affect your chewing process. A simple solution, bring aesthetics but still ensure the ability to eat chewing you is the bridge porcelain. Making porcelain bristles is the choice of missing teeth prosthetics are widely used and popular throughout the world.
When do you need a ceramic bridge?
A dental bridge is a method of treating missing teeth when you cannot use implants or implantation due to your condition and desire. In which two teeth next to the missing teeth will form a supporting pillow, giving the denture (replacing the lost teeth) a stable stand firm.
Replacement of dental bridge replacement teeth in the following cases: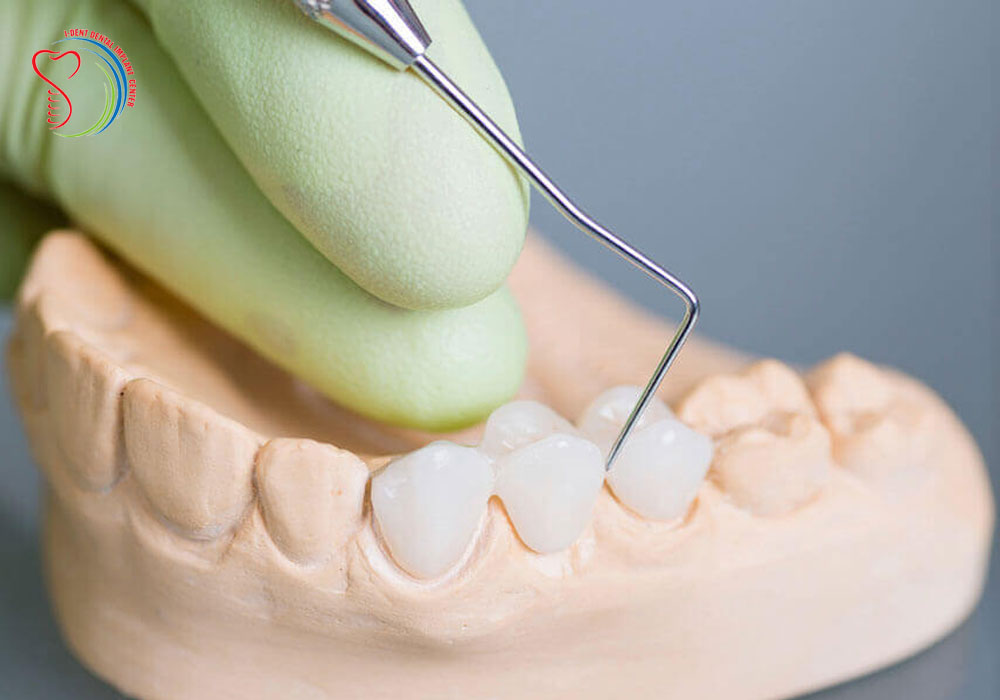 - Deep teeth must be removed
- Loss of teeth in an accident
- Loss of teeth due to aging
The method of making porcelain bridges is indicated for those who lose 1-3 teeth but no need or cannot implant implants.
The outstanding advantages of porcelain bridges are:
- Low implementation costs
- Quick to have teeth to eat chewing
Only 2-3 days as porcelain crowns while dental implant need to wait 2-3 months to complete.
- The bridge is not drilled into the jaw bone so it does not hurt
- Conserve maximum two sides for customers
The process of making porcelain bridges:
At I-DENT Dental Center, the process of dental porcelain bridges is carried out by a team of doctors, dental professionals have extensive experience in the safety procedures of the Ministry of Health:
Step 1: Examination and counseling, x-rays, two imprints for Demo, temporary teeth
Step 2: Sterilize and then numb your teeth
Step 3: Make a sign to make bridges, temporary teeth
Step 4: Install a bridge, check and schedule a return visit
Making bridges hurt and affect anything?
During the process of bridging the customer does not feel pain or discomfort by:
Customers are numbed with anesthesia before a dental implant
The implementation process is supported by modern analgesic technology
Your doctor will prescribe your medication at the same time and have specific indications of proper oral care after bridging the client.
Making porcelain dental bridge in I-DENT Dental not affect chewing function or structure density function technique to minimize the rate of grinding teeth and be done with the support of the dental equipment modern, joints the bite is carefully checked before making the bridge work.
What do you need to know about porcelain bridges?
To achieve the results of dental restoration as expected, customers should note:
- Brush after eating properly (gentle brushing operation), flossing with dental floss.
- In the porcelain bridges, the tree is used only to remove the leftovers.
- Strictly follow the schedule at the examination to grasp the status of teeth - mouth.
Note: the efficacy of the treatment can vary depending on each patient's condition.
For more information please contact:
I-DENT DENTAL IMPLANT CENTER
Dental Clinic - Ho Chi Minh City An Dong
Building 193A-195 Hung Vuong Str, Ward 9, District 5, HCMC
Dental Clinic - Ho Chi Minh City The Army Navy Swimming Pool
Building 19V Nguyen Huu Canh Str, Ward 19, Binh Thanh District, HCMC
Phone: (+84) 28 38 33 68 18
Website: http://www.identdentalimplantcenter.com
Email: identdentalimplantcenter@gmail.com
RELATED: What is the cost of full mounth dental implants in Vietnam, Denal crown done by internation dentist in Vietnam, Dental tourim in Vietnam