Sensitive teeth are when the feeling of discomfort, the sensitivity of one or more teeth, occurs by hot, cold, sweet or sour food or even exposure to cold air. The pain is sharp, abrupt and runs along the crown under the nerve. Not many people experience this symptom without knowing why teeth are sensitive, leading to not knowing how to improve the condition.
Symptoms of tooth sensitivity occur when the layers under the tooth enamel are exposed to the teeth when the gums are no longer protected teeth and enamel worn out. The pulp is not covered by hard enamel, which now contains thousands of small tubes leading to the nerve center of the tooth called the ivory tube, which is easily exposed to stimuli.
This explains why, when exposed to food, beverages with extreme heat, cold or other spices, the nerves in the teeth are stimulated to transmit painful signals.
There are many factors that lead to sensitive teeth, including: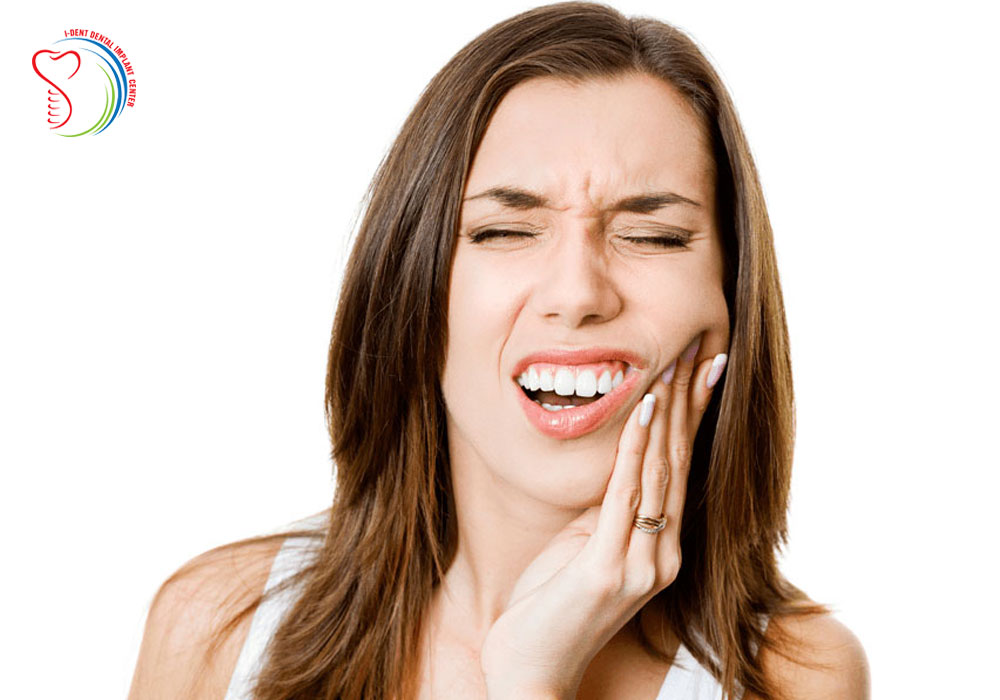 1/ Improper brushing
Over time, brushing with hard bristles can worsen tooth enamel, expose dentin as well as cause loss of interest. Brushing too many times a day, as well as brushing the tooth surface without circular motions, also causes bad teeth.
2/ Caries
Teeth attacks the root of the tooth near the gums. Gingival tooth decay can be caused by brushing the wrong way, due to inflammatory periodontitis ... cause tooth surface is exposed, not only tooth decay but also very sensitive.
3/ Gingivitis
Gingivitis is inflamed, swollen and can cause pain or bleeding, causing damage to the supporting ligaments, with some of the root surfaces in direct contact with the stimulus.
4/ Teeth are chipped.
Broken teeth can easily be attacked with bacteria and plaque. Bacteria can penetrate deep inside and cause inflammation of the pulp, leading to sensitive teeth.
5/ The habit of bruxism
Bruxism, clenching of the teeth can wear enamel and expose ivory to the teeth leading to teeth.
6/ Age
Teeth often become highly sensitive at ages 25-30.
7/ Abuse oral mouthwash
Some acidic mouthwashes can aggravate tooth sensitivity if the enamel has worn out. The acid causes further damage to the dentin. So if your teeth are sensitive, ask your dentist about the use of neutral fluoride solutions.
8/ Consume too much acidic food
Frequently eat foods with high acid content such as citrus fruits, tomatoes. Pickles or tea ... can cause tooth enamel erosion.
9/ Dental hygiene
Dental procedures can temporarily make teeth sensitive to tartar, tooth grinding, root canal removal or crown placement, crowns, dental implants. However, the sensitivity caused by the dental procedure is only temporary and usually disappears a few weeks later.
Sensitive teeth not only affect their daily activities because they directly cause pain and discomfort but also can be a sign of many dangerous oral diseases. Do not be subjective when you see the expression of sensitive teeth that need treatment support in time. For those who are having troubles with sensitive teeth for unknown reasons, you can contact I-DENT Dental Implant Center.
For free advice, identify the cause and support the treatment of sensitive teeth, avoid leading to complications.
Note: the efficacy of the treatment can vary depending on each patient's condition.
For more information please contact:
I-DENT DENTAL IMPLANT CENTER
Dental Clinic - Ho Chi Minh City An Dong
Building 193A-195 Hung Vuong Str, Ward 9, District 5, HCMC
Dental Clinic - Ho Chi Minh City The Army Navy Swimming Pool
Building 19V Nguyen Huu Canh Str, Ward 19, Binh Thanh District, HCMC
Phone: (+84) 28 38 33 68 18
Website: http://www.identdentalimplantcenter.com
Email: identdentalimplantcenter@gmail.com
RELATED: What is the cost of full mounth dental implants in Vietnam, Denal crown done by internation dentist in Vietnam, Dental tourim in Vietnam