1/ VIETNAMESE RESTAURANTS
LEMONGRASS VIETNAM CUISINE
Lemongrass restaurant was established in 1996 on Nguyen Thiep Street, District 1. It is not only attracts citizen in Ho Chi Minh City but also has a strong gravitation with foreign tourists because the way of its staff service is quite polite and friendly concurrently the restaurant style expresses an elegance French architecture but bot less luxurious and modern.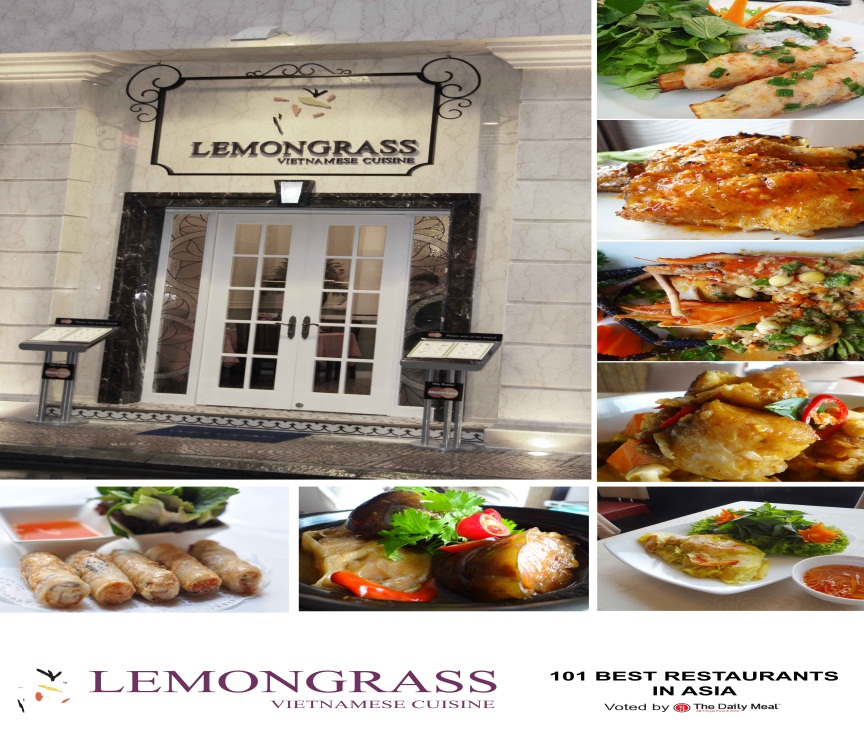 Lemongrass is compared as a world of abundant Vietnamese dishes inside and combined with many types of cocktail and wine which are made in Australia, France, UK, USA or Chile and so on. Along with the warm atmosphere, Lemongrass will take you to delicious Vietnamese meals with suitable price without wasting time for busy people and help you to have a quiet space for chatting with friends as well as gather family at the weekend.
Add: 4 Nguyen Thiep Street, district 1, HCM City
14–15 Floor of Palace Hotel, 56 - 66 Nguyen Hue street, district 1
●Open time: from 10 AM to 10:30 PM
●Tel: (08)3 822 0496
●Email: info@lemongrasssaigon.com
●Website: http://lemongrasssaigon.com
NGON RESTAURANT
Ranked No. 28 is NGON restaurant one of the best delicious restaurants in Asia, gathered place of Vietnamese Street-Foods with the eye-catching decoration and has become one of the favorite locations for both domestic and foreign customers.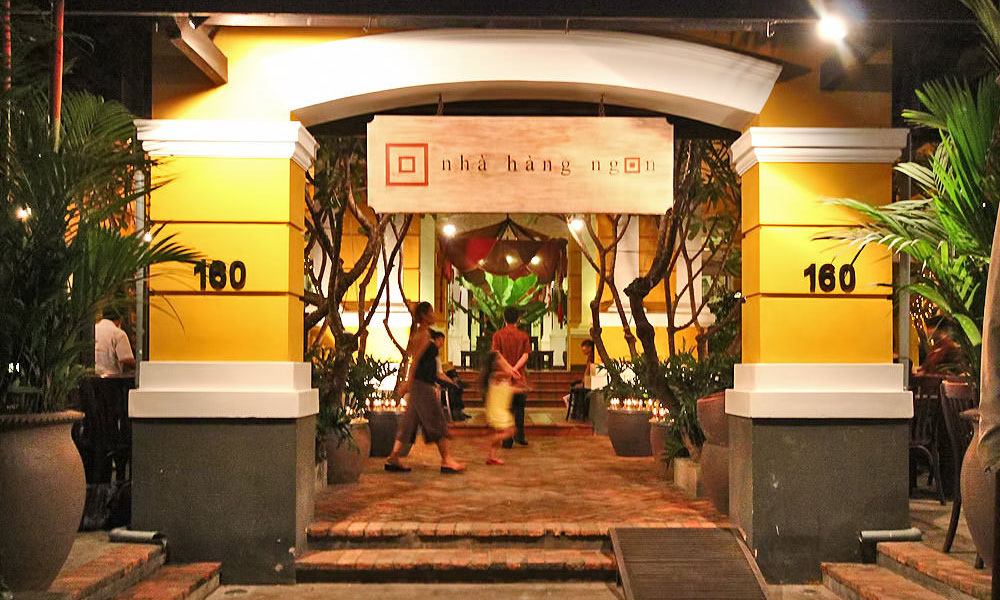 NGON restaurant is a place of gathering the whole quintessence of Vietnamese cuisine from traditional dishes to rustic dishes from three different areas including: north – central – south. When go here, the tourists will be tasted dishes with Vietnamese wine (such as: rice wine, wine drunk out of a jar through pipes in highlands) which bring hometown flavor and characterized of Vietnam concurrently feel relaxing & comfortable with a natural space has many green tree, hometown views as well as enjoy the idyllic as a village.
●Add: 160 Pasture Street, District 1, HCM City.
●Open time: 10 AM to 11:15 PM
●Website: http://www.quananngon.com.vn/lien-he.html
HOI AN RESTAURANT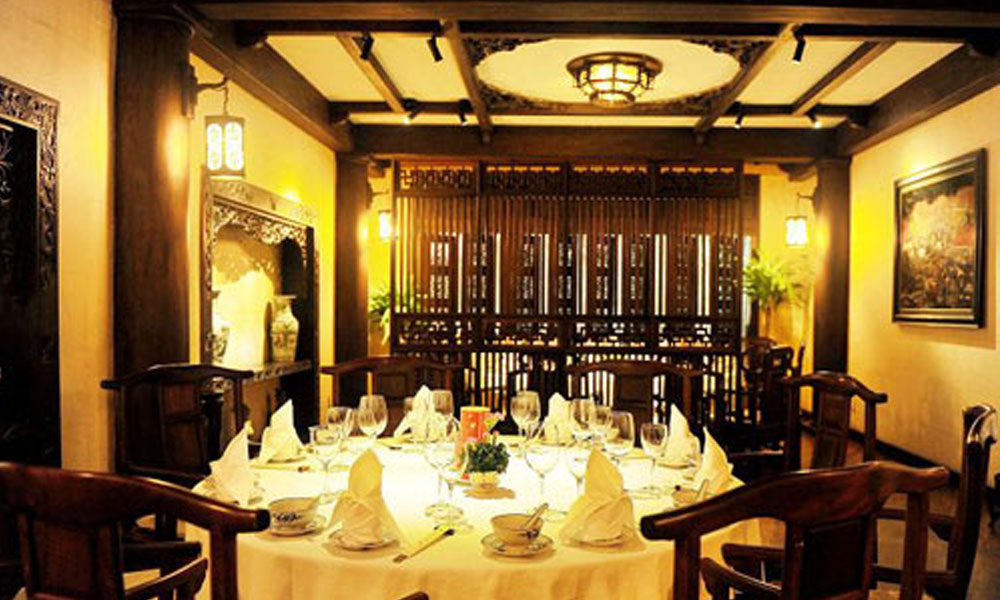 Coming to Hoi An restaurant in ancient architecture space blend with the melodious harmony of traditional orchestra to evokes an ancient atmosphere. The tourists will be reappeared cuisine stories along all the country such as: mussel gruel "Hue" style, tiny rice custards with crumbled shrimps, "Hoi An" style spring rolls, lobster "imperial" style, grilled fish "Tay Ho" style and drink with white and red wine due to the top chefs over 16 experienced years cook and serve. "Hue" cuisine has brought the proud for introduction Vietnamese culture to friends and the whole world.
●Add: 11 Le Thanh Tong Street, District1, HCM City
●Open time: 11:30 AM to 2 PM and 5:30 PM to 10: 45 PM
●Tell: (08)3 823 7694
●Website: http://orientalsaigon.com.vn/hoian
CULINARY VILLAGE – HIGHLANDS CULTURE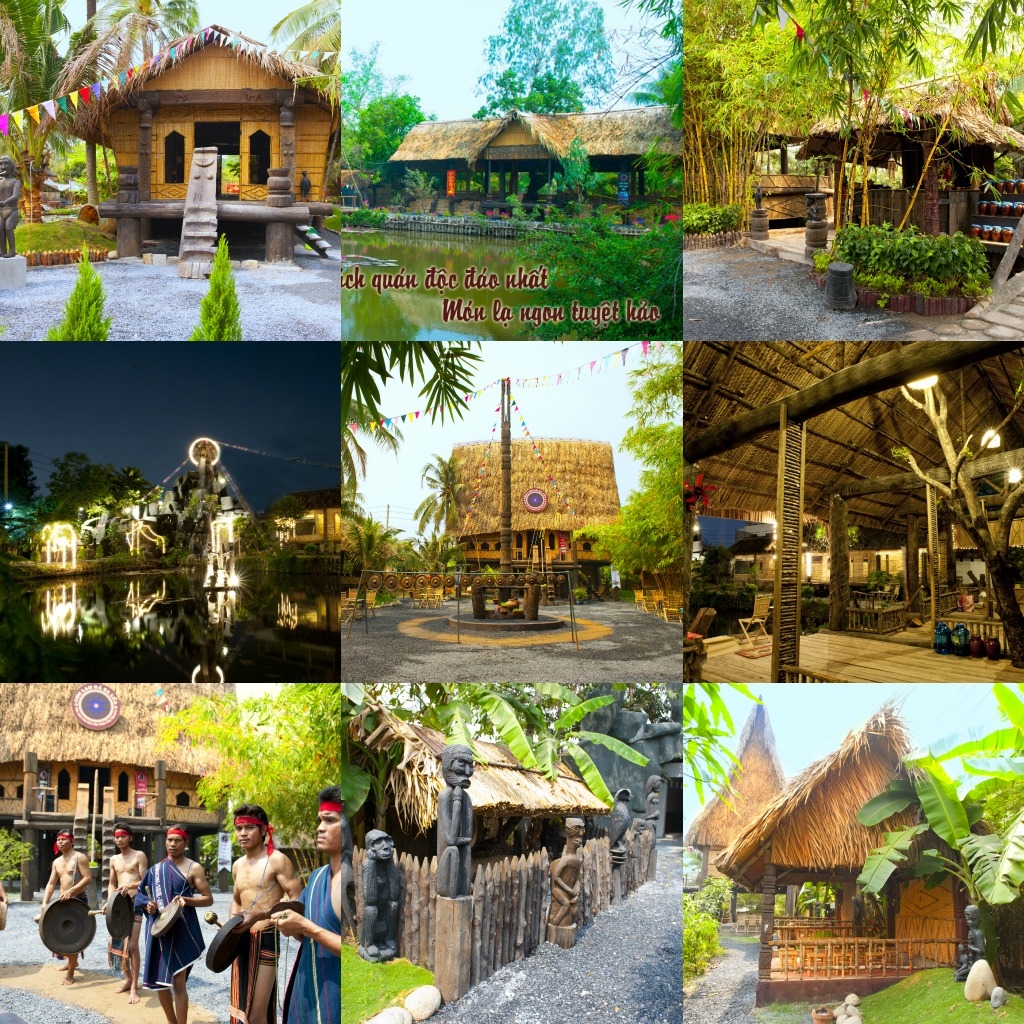 In the peaceful scenery is covered by open houses, the hollow, floor houses and waterfalls mixed the aroma of grilled chicken and bamboo rice annealing coal. The restaurant will bring for the tourists feeling as leaving chaos and worries in town life by an ideal space for enjoying cuisine in every weathers. Culinary village with highlands culture can be also called "Com Lam Ga Sa Lua restaurant", it is design like wooden style, roofs, flowers and green grass to create a feeling from surprise to interesting by a highlands architecture is extremely unique and only be here. The special menus of "Com Lam Ga Sa Lua" dishes are processed by secluded formulas such as wild vegetables crab sauce combine with forest chicken pieces are both greasy and aromatic. Tourists can eat bamboo rice "Com Lam" with sesame salt and drink a little bit wine of highland, "Com Lam Ga Sa Lua" restaurant will bring you an ineffable feeling back and only describe by a word "drunk" due to scenery, delicious dishes and spiced wine. Coming and sharing this exciting moment with your friends, it only has at "Com Lam Ga Sa Lua" in Saigon.
●Add: 1143 Binh Quoi Street, Ward 28, Binh Thanh district. HCM City
●Open time: 8 AM to 10 PM
●Tel: (08)3 556 2668
●Website: http://www.langamthuctaynguyen.vn/gioi-thieu.html.
"ĐO ĐO" RESTAURANT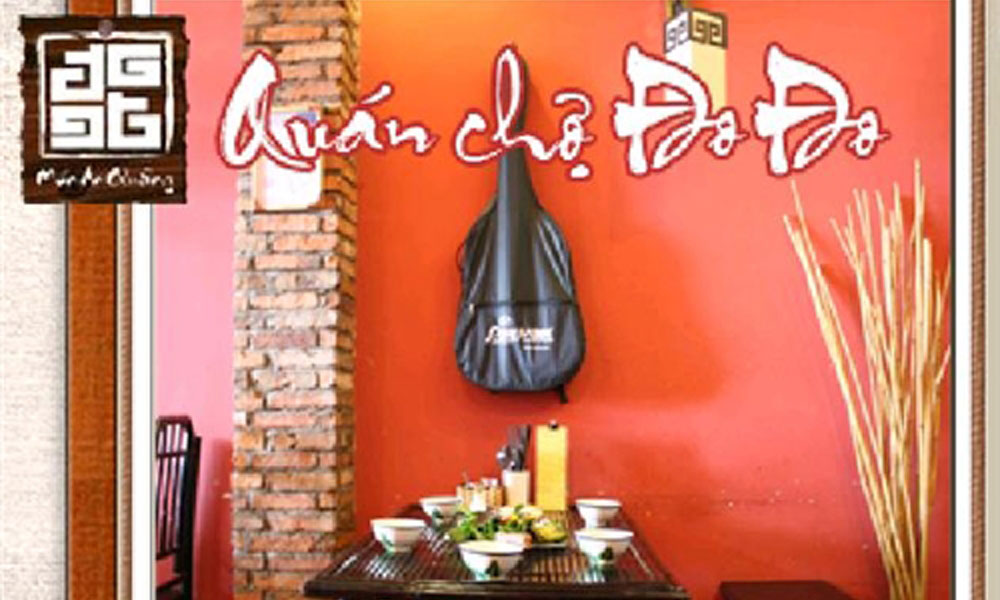 Break into "ĐO ĐO" restaurant of Nguyen Nhat Anh writer. The tourists located in small concern of Quang Nam between the abundant Saigon. However, the restaurant is not large but it attracts a lots of customer special foreign tourists, coming to "ĐO ĐO" restaurant tourists can taste more than 50 dishes of "XỨ QUẢNG" as: "Cao Lau", "mussels exposed dry pancake, tuna noodle, dirt cake, mussel rice and so on.
"ĐO ĐO" restaurant with a green space, have bamboo tables, wooden chairs, if anyone have once drifted here, they will image as enjoy a hometown meal because the dishes are cooked and mixed piquancy which is characterization of central region .
●Add: 10/14 Luong Huu Khanh Street, Pham Ngu Lao ward, District 1
●Open time: 6:30 AM to 9:30 PM
●Website: http://www.giamua.com/places/234/mon-quang-quan-cho-do-do
2/ ASIA – EUROPE RESTAURANTS
AU MANOIR DE KHAI RESTAURANT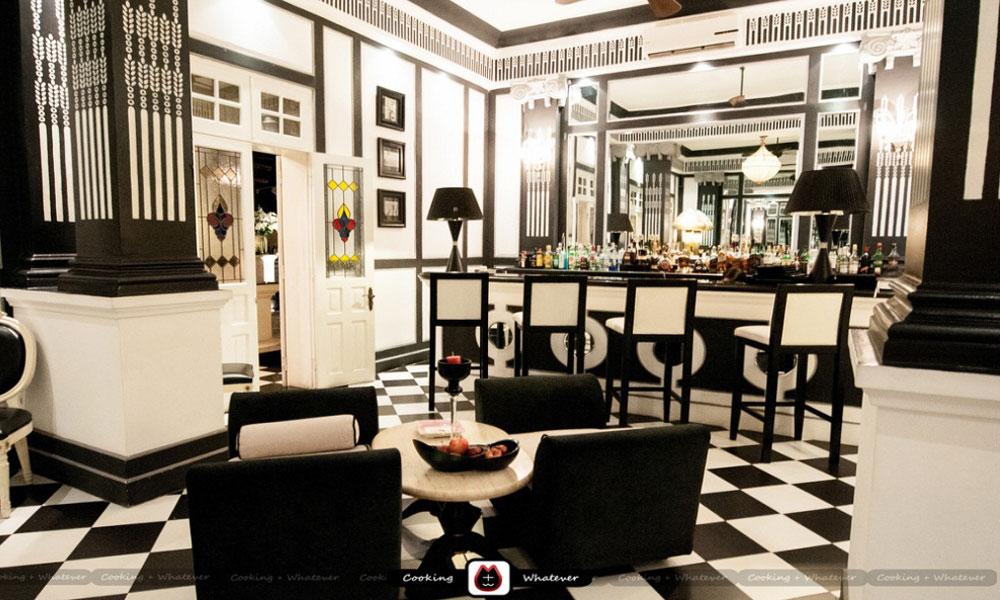 This is one of the best well-known restaurants in Saigon about French cuisine, with the purpose to create comfortable place but not less luxurious, the restaurant has large area along with design's seats are near green space. In the villa is built by the following French architecture, the tourists will enjoy a menu including excellent French dishes such as: duck liver of French sauté and eat with grape sauces, cream soup "French" style, Truffles mushroom soup eats with chicken dumplings or grill tuna fillet with olive oil eats with tomato sauce. In addition, Au Manoir De Khai restaurant also has "Imperial Set Menu" program, this program is created with the goal to bring an impressed dinner meal for both the domestic and foreign customers with interesting Europe dishes. A small advice for foreign customers, if you would like to enjoy a meal at Au Manoir De Khai restaurant you should book table before your coming because it is quite crowed.
●Add: 251 Dien Bien Phu Street, Ward 7, district 3. HCM City
●Open time: 2 PM to 10 PM
●Tel: (08) 3930 3394
●Fax: (08) 39 330 583
●Email: aumanoir@khaisilkcorp.com
●Website: http://www.khaisilkcorp.com
MING DYNASTY RESTAURANT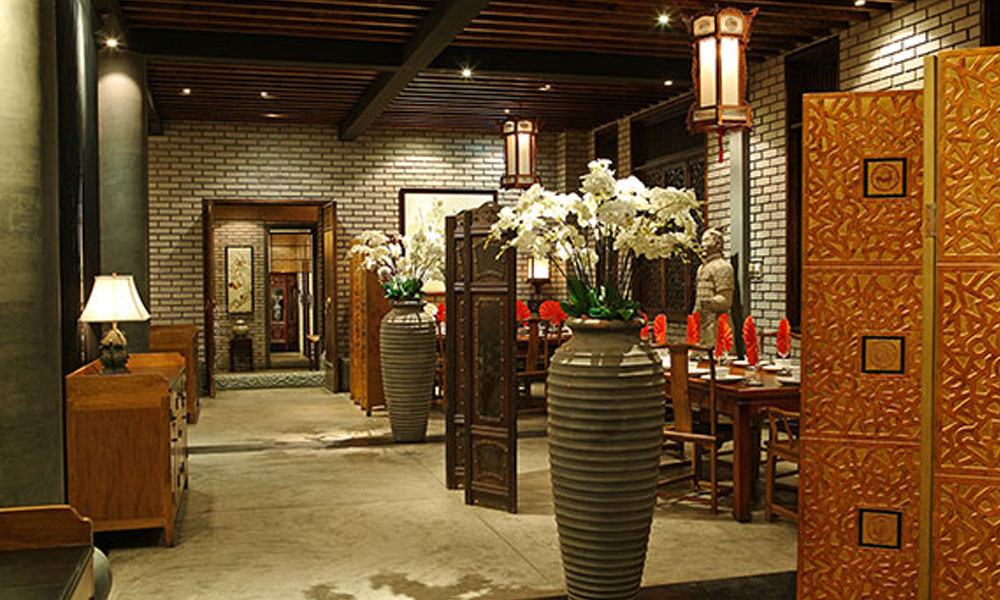 Bringing architecture style and design of "Ming Dynasty", Ming Dynasty restaurant with Chinese cuisine has re-appeared a part of history stage when "ĐÔNG TÂY" combines to create a prosperity culture. "Ming Dynasty" culture lies hidden in pictures, carpet, decorated statues, tables and chairs along with gray brick wall, white lanterns and wooden furniture. All of them has blended together to create luxurious atmosphere and romantic for reminisce about Chinese ancient palace. Ming Dynasty restaurant with a hundred dim sum dishes and 300 specialties dishes of Hong Kong due to 20 the top chefs cook and serve. It is a place the tourists can enjoy traditional Chinese cuisine and dishes are presented quite careful and ingenious. It is one of several places in the city for sipping "Tsing Tao" wine which is prevailing in China.
●Add: 23 Nguyen Khac Vien Street, Tan Phu Ward, District 7. HCM City
●Open time: 10 AM to 2 PM and 6 AM to 10 PM
●Tell: (08)3 5411 5555
●Website: http://www.khaisilkcorp.com/restaurants/ming
EL GAUCHO ARGENTINIAN STEAKHOUSE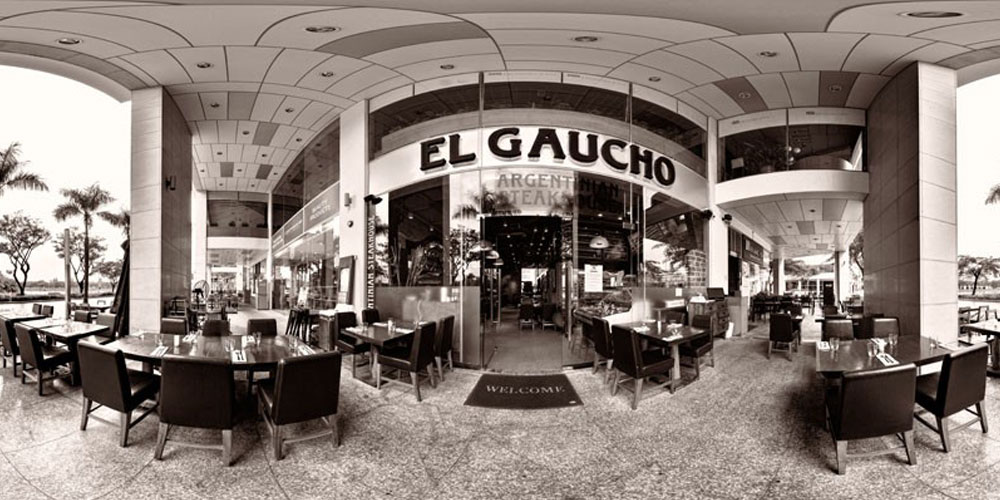 EL Gaucho is an Argentina V.I.P restaurant chain with many branches around the world, this restaurant conquers the tourists by modern architecture mixed classical with delicious dishes. EL Gaucho brings an interesting feeling back for tourists about beef steak which are processed by scrumptious beef and following Argentina when use grill braziers by hand, this thing aiming to keep original flavor of fresh beef and enjoy with red wine, it is extremely wonderful and perfect feeling.
●Add: 71/1 Hai Ba Trung Street, Ben Nghe ward, District 1. HCM City
●Open time: Mon – Sat 5 PM to 11:30 PM
●Tel: (08)38 272 909
●Website: http://elgaucho.asia/restaurants.html
THAI EXPRESS RESTAURANT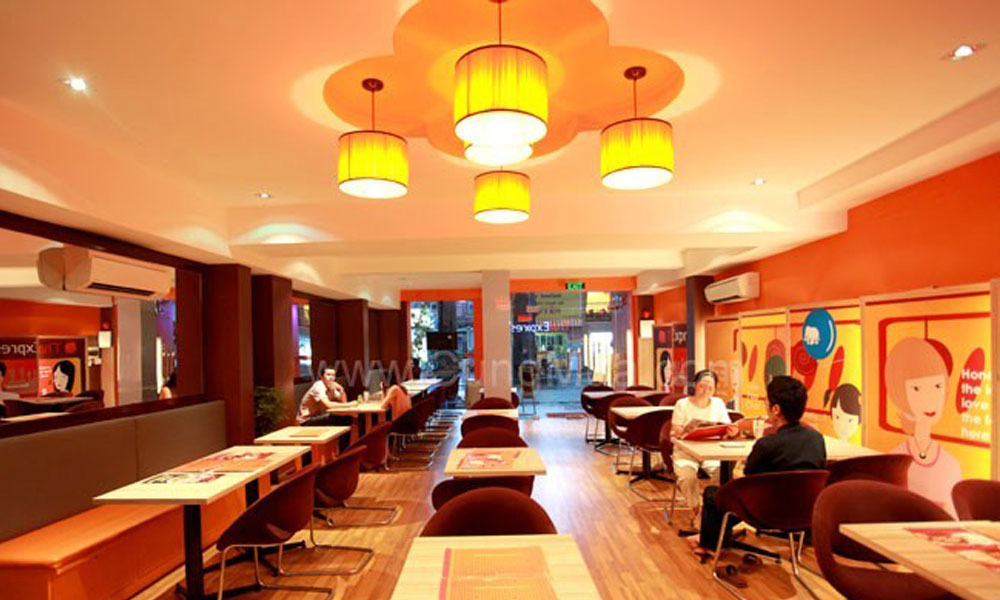 Thai Express is seen as the largest Thailand restaurant chain in the world and represent for the whole Thailand culture, it describes Thailand cuisine clearly from the way of unique presenting dishes to the flavor of each dish. Thanks to the cuisine style and entrepreneurialism have attracted both domestic and foreign customers from other nation on the global. It is an ideal rendezvous, an experience and also convenient location for you to go with friends and family for tasting as well as discovering Thailand dishes, native flavor with devoted service and professional.
●Add: 47 Tran Cao Van Street, District 3. HCM City
●Tel: (08)38 246 928
●Website: http://thaiexpress.com.vn/home
TOKYO DELI RESTAURANT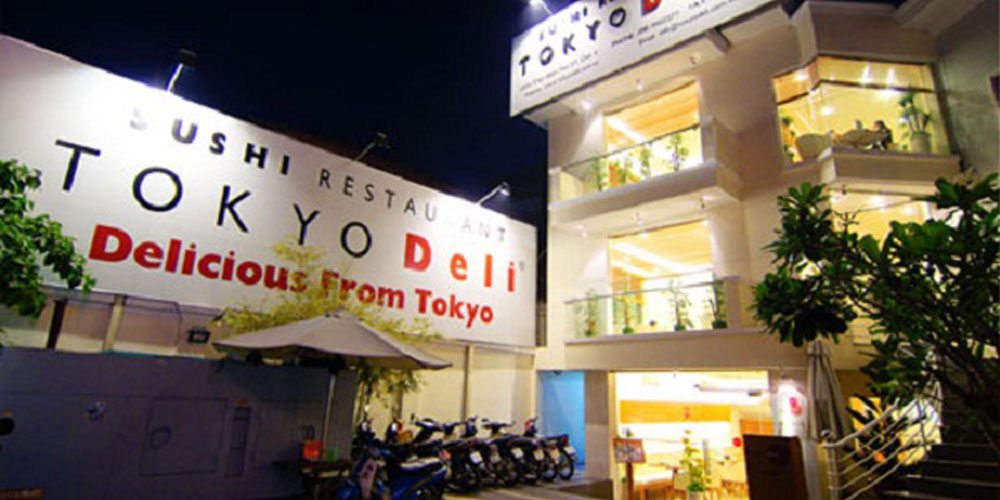 The menu of Tokyo Deli with abundant dishes, featured and very delicious due to Japanese professional chefs to processes with the right Japanese flavor, the regular menu is changed and implement new dishes aiming to introduce many delicious Japanese traditional dishes. Nowadays, Japanese cuisine has crossed the nation border and be well-known in the world, Tokyo Deli with unique dishes create impression by appetite, elegant decoration and special more benefits for the health.
●Add: 425 Vo Van Tan Street, District 3, HCM City
●Open time: 11 AM to 10 PM
●Tel: (08)38 181 177
●Website: http://tokyodeli.com.vn/en-US/about-us-185/tokyo-deli-and-development-plans-242.aspx
3/ VEGETARIAN RESTAURANTS
MANDALA VEGETARIAN RESTAURANT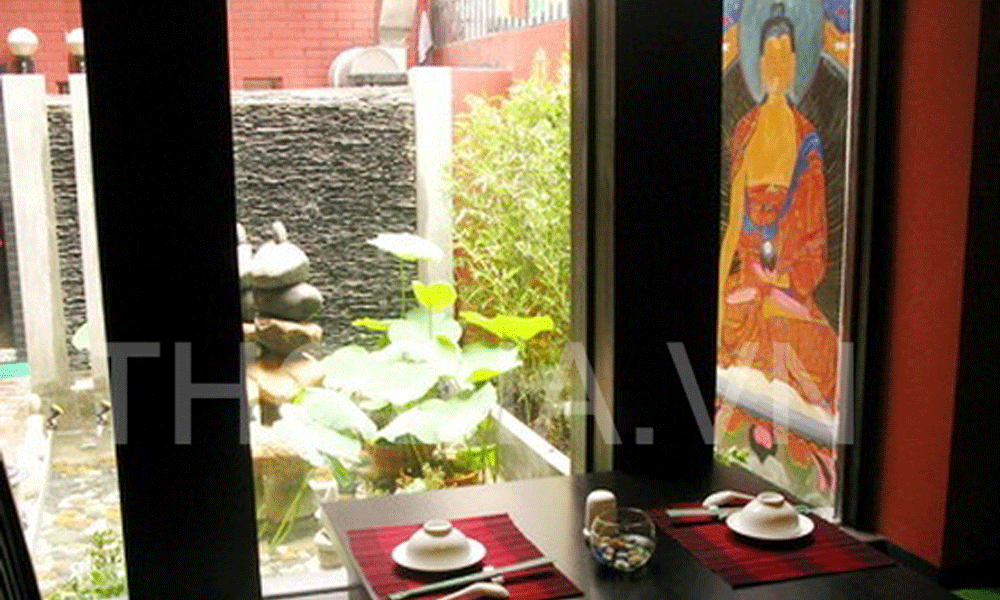 The Tibetan color in Mandala restaurant is covered by rare greeneries in the crowed City. The space is bold Tibetan style along with frugal dishes, Mandala bring tranquil and peaceful feelings. Mandala restaurant creates relaxing feeling for the customers that thanks to by small garden and the line of green trees, pebbles crunch under foot makes diners to leave behind chaos and worries in the life. Putting the door and coming into the restaurant the diners will feel a fresh atmosphere and is enjoyed by eyes through Buddhist painting on the wall, the cell, the masks and ceremony music, the menu of restaurant is quite abundant with appetizers, snacks to main dishes. With dishes are frugal but it still has a strange attraction by taste of every diners has used to special flavor without anywhere have been.
●Add: 110 Suong Nguyet Anh Street, Ben Thanh Ward, district 1. HCM City
●Open time: 10:30 AM to 11 PM
Rôu Vegetarian Restaurant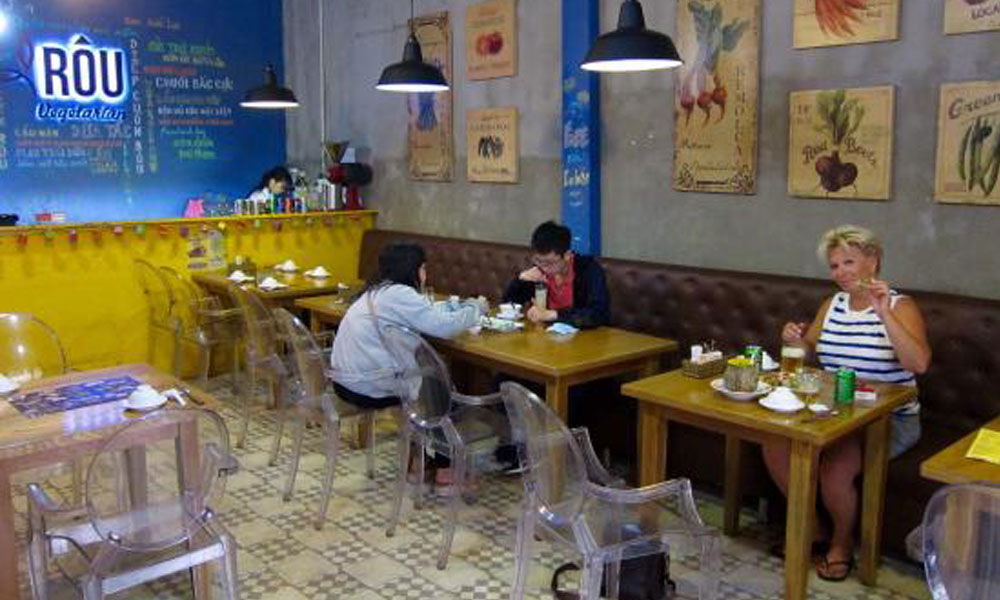 "Rôu" is a strange name, it means "Vegetarian" and in Vietnamese "Rau Cai" which is not indispensable and attached with people's life, the reason is written like this because the restaurateur expected to connect with everyone when they come to "Rôu" both citizen and foreigners and anyone also pronounce the word "Rau". Besides that, the aim of restaurant wants to provide the nutrient from vegetables by frugal meals as well as give "value" for each dish concurrently it brings diners to new land for immersing with nature and enjoy green meal with soothing music.
Add: 37B Co Bac Street, Cau Ong Lanh Ward, district 1. HCM city.
●Open time: 8 AM to 10 PM
●Tell: 08 6276 1613
●Website: http://rou.vn/gioi-thieu-rou
THE ORGANIC RESTAURANT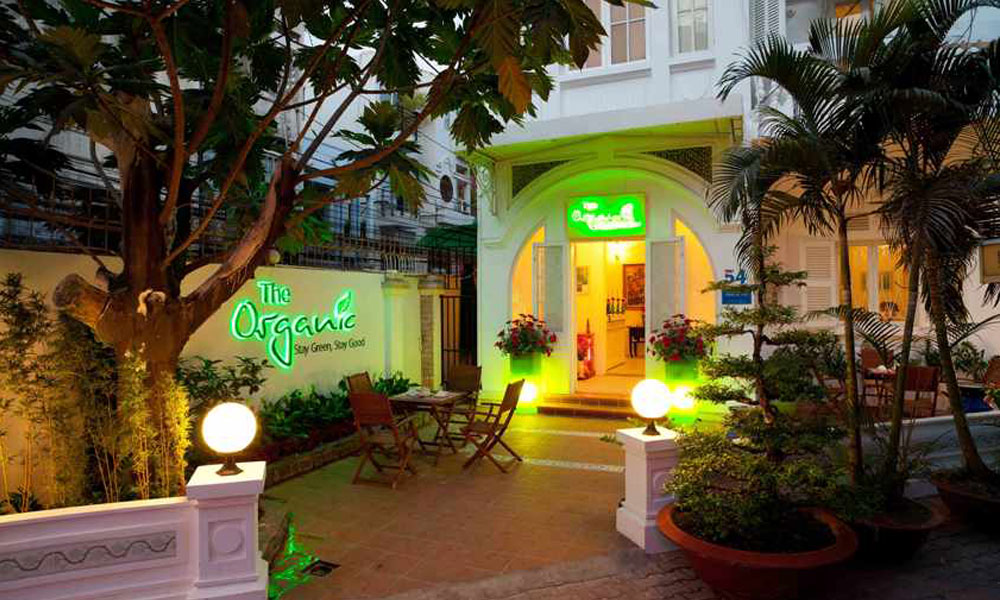 Welcome to the Organic restaurant with an essence cuisine of vegetarian dishes which were processed by the organic food and clear from the root. Dear friends, according to the recently researches indicated that vegetarian food is absolutely have many benefits for your health to limit some types of sick as well as improve your body. Therefore, at The Organic restaurant the diners will serve vegetarian dishes with the specific restaurant style to bring the flavors both strange but still familiar. From fresh vegetables materials, dishes are processed by organic plants in which the materials are grown in the closed environment without pesticides and chemical fertilizers so The Organic's dishes are valuable gifts to dedicate for diners.
Add: 54 Ly Van Phuc Street, Tan Dinh ward, District 1. HCM City
●Open time: 8 AM to 9 PM
●Tell: 0838 200 278
●Website: http://www.the-organic.vn/index.php?trang=news.php&lang=1
AN NHIEN RESTAURANT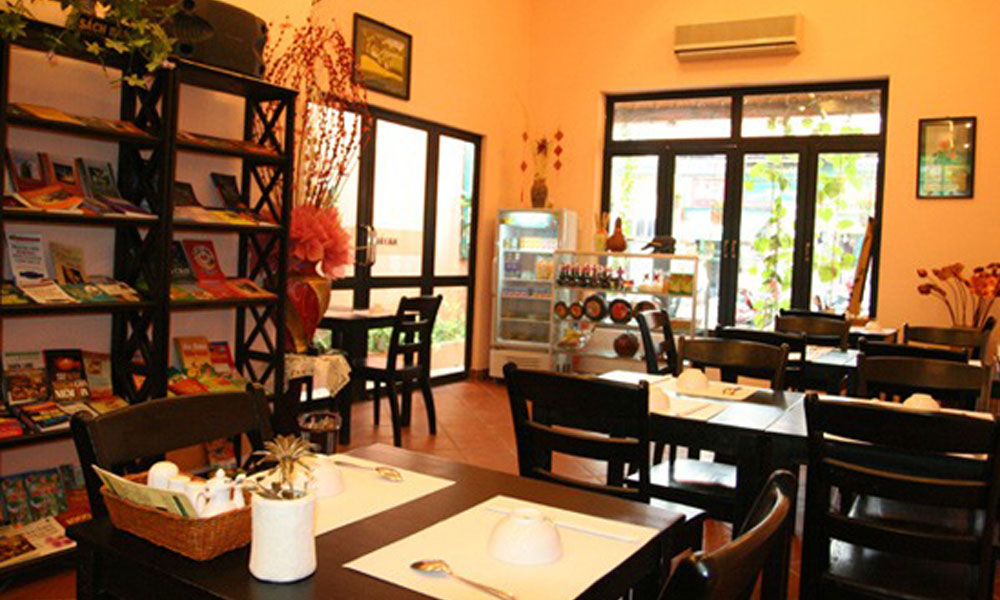 Mushroom vegetarian hotpot restaurant is the top priority place when talking about vegetarian topic. The diners just hear the name "An Nhien" they will sad worries or depressed to also disappear, all of things become peaceful, the natural nutrient components have into all kinds of mushroom, they are not only help for promotion your health, anti - aging but also have anti-cancer agents. With the sweet sound of mushroom from vegetable without monosodium glutamate make sure about health and safety for diners. In addition, "An Nhien" also serves many other dishes such as: "Cha Ca La Vong", "Mushroom Pasta", "noodle sautéed mushrooms" and "Com Nieu An Nhien"so diners have many choices to select.
●Add: 16 Le Ngo Cat Street, ward 7, district 3, HCM city.
●Open time: 9 AM to 9 PM
●Tel: 0839 300 036
●Website: http://launamchayannhien.com/gioi-thieu-Ve-chung-toi-20.html
TIB VEGETARIAN RESTAURANT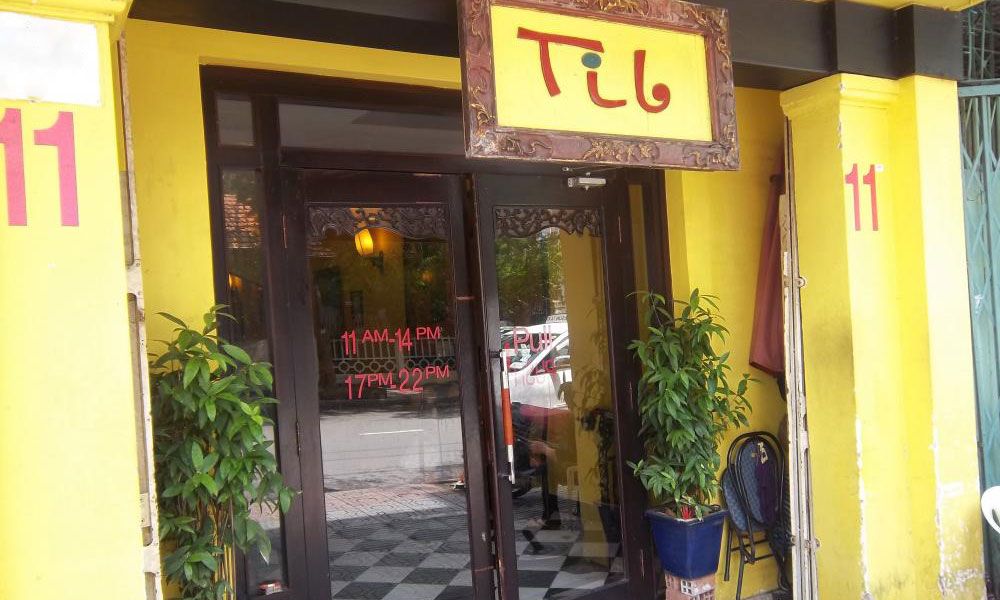 "TIB" is vegetarian restaurant with traditional style of "Hue", the dishes are cooked by pure materials as vegetables, tofu and does not use imported components from other countries or process similar as salty food. Furthermore, all of dishes here are diversity and almost dishes are contained in very eye-catching devices, precious decoration as well as the attraction and delicacy of each dish namely hades rice with many color and flavors, wheel dirt cup or tangy jackfruit salad. Therefore, when the diners are both taste traditional food with "Hue" style and listen to songs that bring echoes of the "Hue" ancient.
●Add: 89 – 91 Phan Ke Binh Street, district 1. HCM City
●Open time: 11 AM to 14 PM and 17 PM to 22 PM
●Tel: (08)39 115 455
●Website: http://tibrestaurant.com.vn/du-lich-ngoi-sao-sapa/tib-chay