I/ SHOPPING HEAVEN IN HO CHI MINH CITY
1/ CRESCENT MALL
Crescent Mall has operated since 2011. It is seen as the first shopping center in Vietnam and evaluated international standard with a unique arc-sharp design include 134 stores are distributed all over five modern floors. Crescent Mall gathers a famous brands chain (namely: Gap, Guess, Levi's, Mango, Elle, Charles & Keith), cinema, entertainment places for children and a large food court.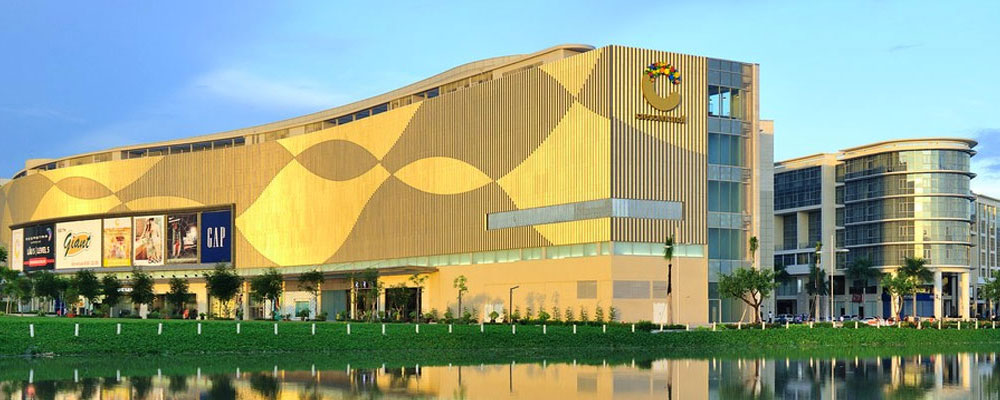 Here is not merely shopping center but also the vast lobby of Crescent Mall is a place for gathering music exchanged events and featured culture as well as fashion shows, concert programs and live shows of well-known singers. In addition, Crescent Mall also organizes fun activities without any fee so it becomes attractive location for households, children and young people.
♦Time: 10 AM – 10 PM.
♦Location: 101 Ton Dat Tien street, Phu My Hung, Tan Phu ward, district 7, Ho Chi Minh City.
♦Map: http://crescentmall.com.vn/ban-do-duong-di/.
♦Transportation: taxi, bus, bike, bicycle and cyclo.
2/ BEN THANH MARKET
Location in the city center, Ben Thanh market is extremely familiar with citizen and foreign tourists when visit Ho Chi Minh City. It is established and developed over 100 years and has become special symbol of Sai Gon.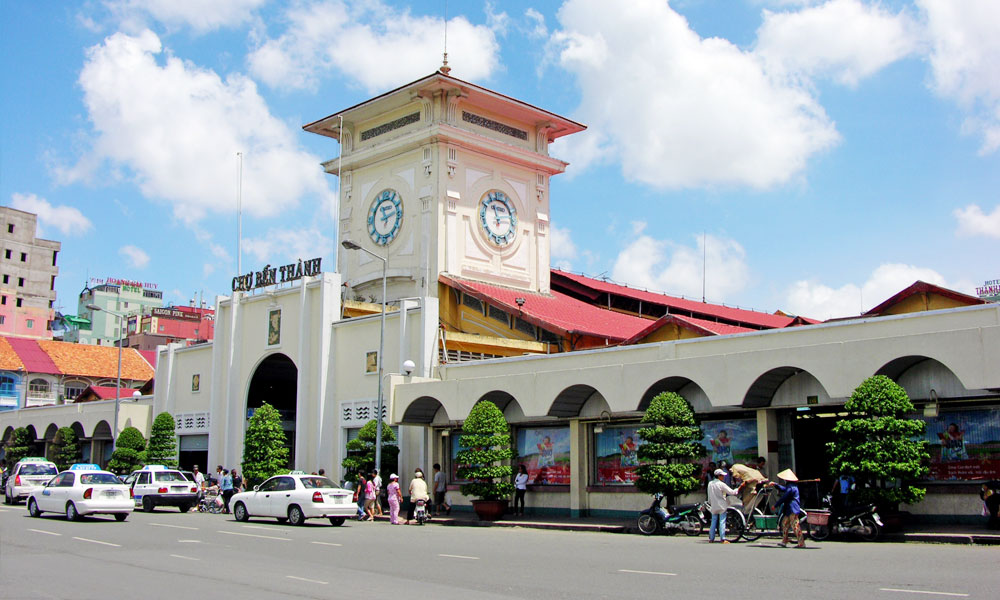 An incomplete trip if you do not visit Ben Thanh market. It is a bustle market, you will have the opportunity to enjoy all kinds of Vietnamese food from traditional food to street food and buy nice souvenirs for family and friends. Furthermore, you'll open your eye by observing handicraft products due to artists made by hand with skillful techniques combine with simple materials such as ceramics, baskets, jewelry and embroidery. Besides that, you'll wear Ao Dai and Non La which express beautiful soul and national character concurrently feel the friendliness of Vietnamese.
♦Time: 8 AM – 9 PM.
♦Location: south gate of Ben Thanh market, Ben Thanh Ward, District 1, HCM City.
♦Map:
♦Transportation: Taxi, bus, bike, bicycle and cyclo.
3/ PARKSON SAI GON TOURIST PLAZA
Parkson Sai Gon Tourist Plaza is member of Lion Group in Malaysia. It official opened in 2005 and become one of the largest shopping heavens in Ho Chi Minh City with famous brands and diversified mode in all ages from the baby to old people.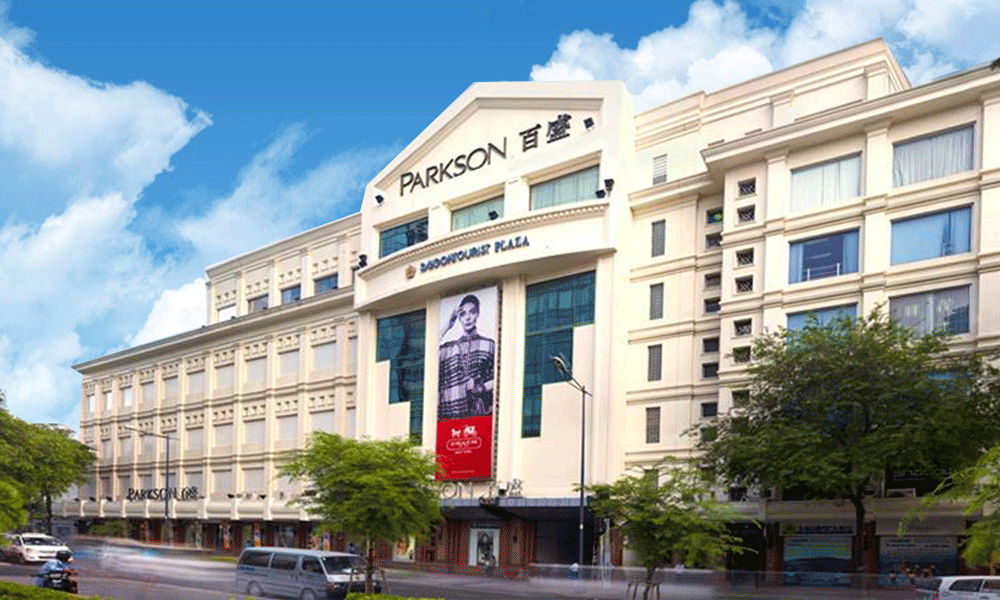 Parkson usually focuses on creating the interest for tourists so when go there you will be discounted for buying any products because here has attractive discount programs for all year such as: cosmetic festival, sport festival, office fashion etc. Moreover, it is not only brings the newest fashion tendency back.
When the night falls, Le Thanh Ton Street is lighted up by color lights that create the uproarious atmosphere which is characterization of Sai Gon. In addition, outside parkson sometime appears several burdens Street for selling snacks special mix paper rice following Vietnamese style.
♦Time: 9:30 AM – 10 PM
♦Location: 35 Bis – 45, Le Thanh Ton Street, District 1, HCM City.
♦Map: http://www.parkson.com.vn/vi/vi-tri.
♦Transportation: taxi, bus, bike, bicycle and cycle.
4/ AN DONG PLAZA
An Dong plaza is a business center which lies on Chinese town and it divided three regions namely: business, restaurant service and hotel so it become a sight-seeing and shopping location for foreign tourists. Besides that, it also provides hotel service with the area is more than 20.471 m2 including 392 bedrooms that standard five stars.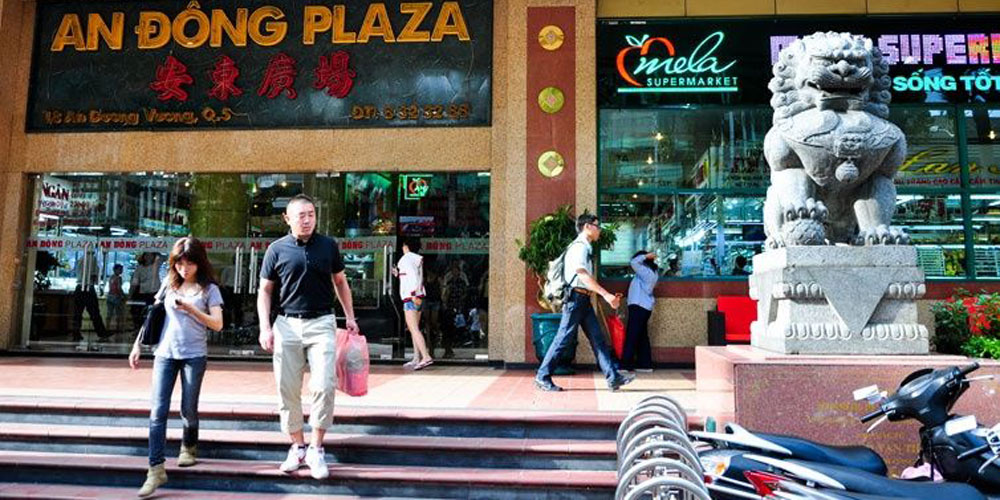 After walking, going shopping for hunting high quality woodwork, lacquer ware, knitwear or Vietnamese crafts and enjoys Vietnam – China dishes, you
can come back hotel for relaxing through swimming, massage or drinking coffee in tree gardens with listening music.
♦Time: 9 AM – 9 PM
♦Location: 18, An Duong Vuong Street, District 5. HCM City
♦Map: http://nhanha.coccoc.com/poi/details/9026254061905979666.
♦Transportation: taxi, bus, bike, bicycle and cyclo.
5/ AEON MALL TAN PHU CELADON
Recently AEON mall Tan Phu Celadon has become center as a shopping mall, playground and entertainment cannot be ignored of citizen and tourists. With the way of decoration is not less elegant and modern so any tourists will be attracted by folk games and cultural activities.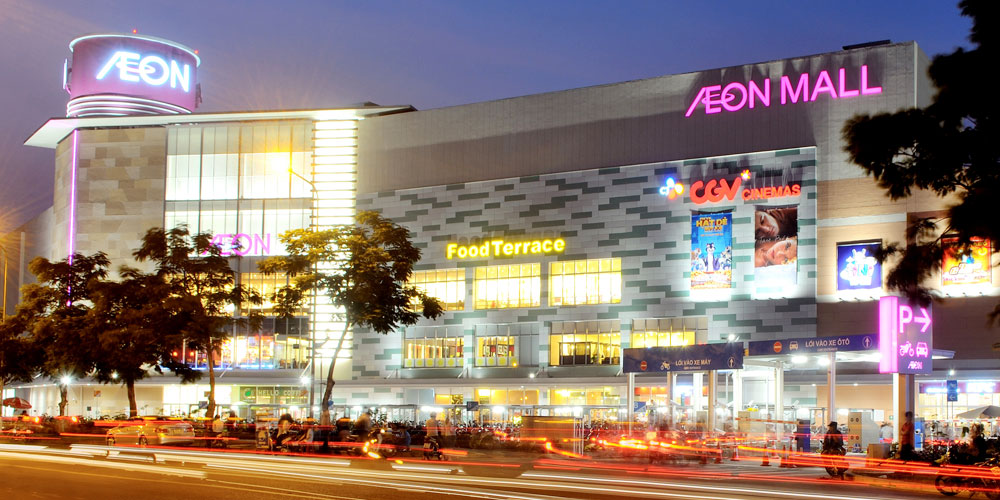 If you want to go AEON mall Tan Phu Celadon, it will provide transportation service for free by bus and you can take the bus on Nguyen Binh Khiem Street in Somerset HCM at 9.20 AM. Furthermore, here have the series chains as restaurants from different nations (Japan, Vietnam, Korean, India, Thailand and China), electronic supermarket and entertainment area with the price is quite cheap.
♦Time: 10 AM – 10 PM.
♦Location: 30 Bo Bao Tan Thang, Tay Thanh Ward, Tan Phu District, HCM City.
♦Map: http://aeonmall-tanphuceladon.com.vn/static/detail/access.
♦Transportation: taxi, bus, bike, bicycle and cyclo.
6/ BITEXCO FINANCIAL TOWER
Bitexco financial tower is a sky building which was built in district one center. It's design by reinforced concrete and glasses with the height around 262 m and on the building's terrace can contain helicopter.
Bitexco Financial Tower is taken from graceful image and serene of lotus which is the symbol of Vietnamese culture. The building is seen activeness of the Ho Chi Minh City. On the top of building will be decorated and light up at night to create a sparkling beauty as lighthouse.
In addition, you can go to floor 49 for sight-seeing the whole of Saigon's views and Saigon River and go to under floor to taste Vietnamese food as well as
International food and can play some games, watch films, enjoy Vietnamese coffee or go shopping. Otherwise, this building is extremely near walking town on Nguyen Hue Street, you can walk around and see articles and pictures of Vietnamese's history.
♦Time: 9AM – 10 PM.
♦Location: 2 Hai Trieu Street, Ben Nghe Ward, District 1, HCM City.
♦Map: http://www.bitexcofinancialtower.com/?page_id=56&lang=vi.
♦Transportation: taxi, bus, bike, bicycle and cyclo.
7/ SC VIVO CITY
Located on Nguyen Van Linh highway, SC Vivo City trading center is built and operated by top Asia groups with the area about 41000 m2 including 5 floors and gathers a lot of retail brands inside as well as outside Vietnam.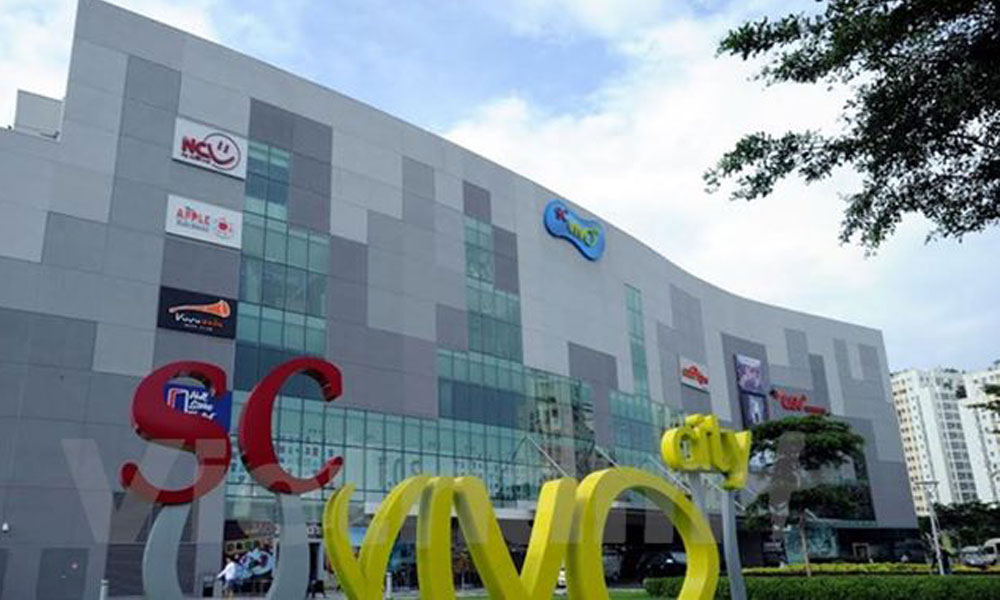 The unique accent of this center is outside entertainment Park combine with dry and water playground for children and adult on the terrace, here tourists can be immersed in cool water and observe the blue sky. SC ViVo City center has more diversity products, consist: Cineplex, fitness center, bowling, language center, Fashion, cosmetic, food stalls so tourists can have more choices.
♦Time: 9 AM – 10 PM.
♦Location: 1058 Nguyen Van Linh Street, Town 1, Tan Phong Ward, District 7, HCM City.
♦Map: http://scvivocity.com.vn/ve-chung-toi/duong-den-sc-vivocity/.
♦Transportation: taxi, bus, bike, bicycle and cycle.
8/ DIAMOND PLAZA
Diamond plaza includes 22 floors, is built 1999 and located at the corner of Le Duan Street and Pham Ngoc Thach Street, lies on behind Duc Ba Church. Diamond plaza is used for office, hospital, shopping mall and entertainment center.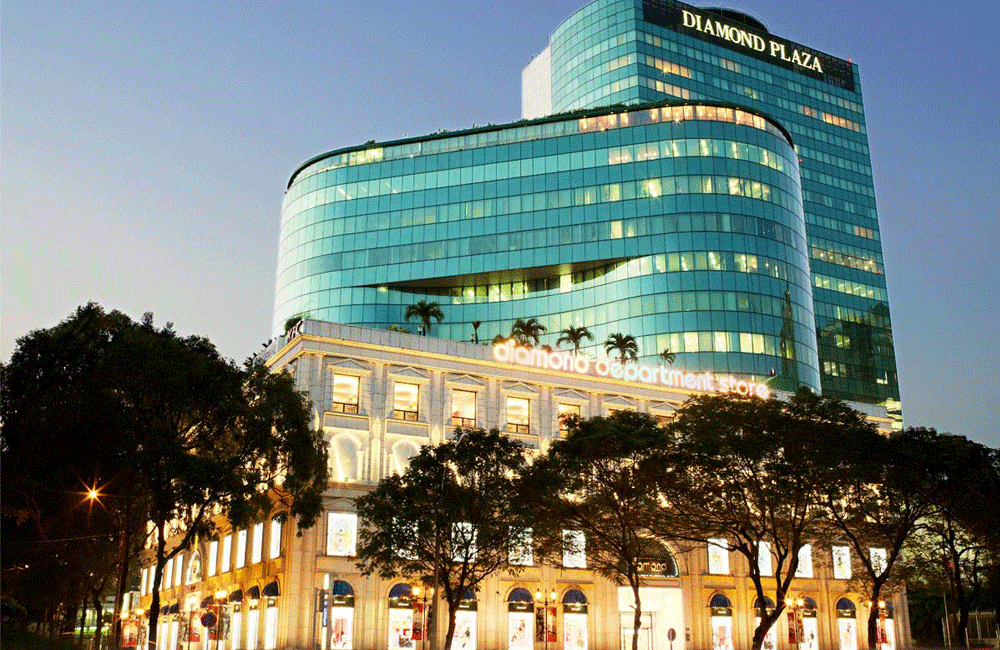 If the tourists want to play a game of bowling, watch a film or simply roam in the supermarket, Diamond Plaza is an ideal place. This center sells series of cosmetic, perfume, clothes, branded toys as well as bustle eating center with abundant choices. Contrary, it has entertainment clubs such as casino, dance, golf, cinema, discover, bowling etc. besides that, tourists have chance for visiting Duc Ba church, Post office and enjoy "Bet coffee" in 30-4 park which is opposite Duc Ba church.
♦Time: 9 AM – 10 PM
♦Location: 34 Le Duan Street, Ben Nghe Ward, District 1, HCM City.
♦Map: http://www.citypassguide.com/vi/destination/thanh-pho-ho-chi-minh/mua-sam/trung-tam-mua-sam/saigon-centre.
♦Transportation: taxi, bus, bike, bicycle and cyclo.
9/ BINH TAY MARKET/ CHINATOWN
Binh Tay market known by the name "Cho Lon" and is built in the 20th century with the area more than 17000 m2 which follow East-Asia style. Binh Tay market owns about 2300 business stalls with 30 industries including: shoes, clothes, bags, cloth, crockery, canned food, culinary, aluminum and inox.
Binh Tay market has around 12000 tourists to go there for visiting and purchase commodity with suitable price concurrently observing ancient architecture and finding out history knowledge. Here gathers goods from many regions (namely: "Pia cake" of Soc Trang – West, cloth of Hoi An for sewing "Ao Dai" is embroidered Vietnamese's cultural symbols as drums, lotus flower or special patterns). The tourists also purchase characteristic commodity of many area in Vietnam territory without wasting time to find.
♦Time: 7 AM – 5 PM
♦Location: 72 A Thap Muoi Street, Ward 2, District 6, HCM City.
♦Map: http://www.chobinhtay.gov.vn/View.aspx?id=5.
10/ CANTAVIL PREMIER
Cantavil Premier cannot overlook this location including citizen and tourists in HCM City, it is covered by 15 V.I.P apartments (as: The Vista, The Escalla, Petro Landmark, Thao Dien Pearl and so on).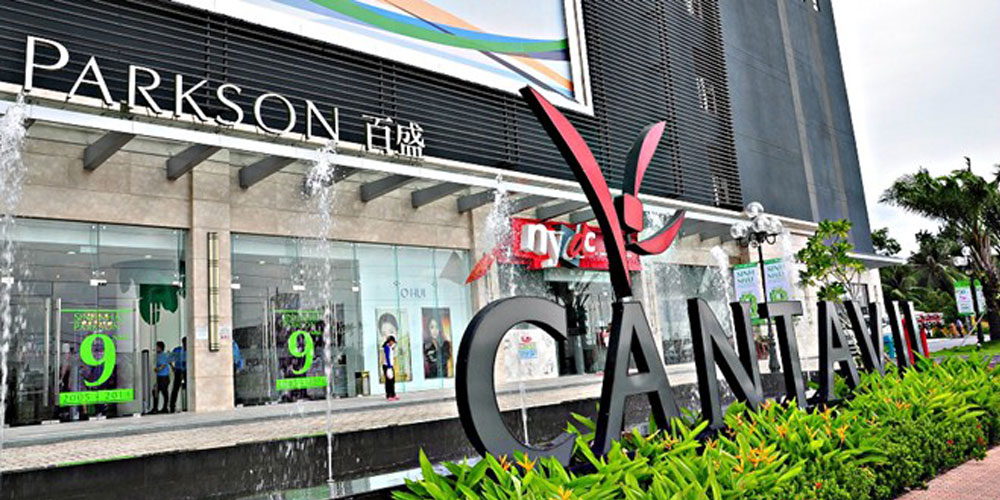 This shopping mall bring back many utilities in shopping from diversity commodity with the top brands about fashion, cosmetic, furniture like Titan, Ohui, Whoo, Lock & Lock or Hura Kids from Parkson system. Here is the first choice for woman as well as tourists for purchasing fresh food, consumer goods at Big C supermarket. It is not only meet the needs as shopping, entertainment or relaxing but also it has a series well-known and luxurious restaurants as well as coffee shops to give unique & abundant dishes with class style for any customers.
♦Time: 9 AM – 10 PM.
♦Location: Ha Noi Freeway, An Phu Ward, District 2, HCM City.
♦Map: http://www.cantavilpremiermall.com/.
♦Transportation: taxi, bus, bike, bicycle and cyclo.