Currently, in front of the outstanding advantages that porcelain crown solution bring, many domestic and foreign customers are very interested in finding a place where the porcelain crown is prestigious in Vietnam. Here are some advantages and disadvantages of each porcelain crown type that you can choose suitable type as well as the dental addresses in District 5 and Binh Thanh District where make good porcelain teeth in Vietnam.
Porcelain crown is one of the leading dental restorative methods that many patients choose to surmount the imperfect oral status because this solution not only brings optimum efficiency but also does not affect the oral health of patients.
Porcelain-fused-to-metal crowns (PFM) are made of both porcelain and metal. A metal layer is placed on the tooth, then, another porcelain layer is fused to the metal shell.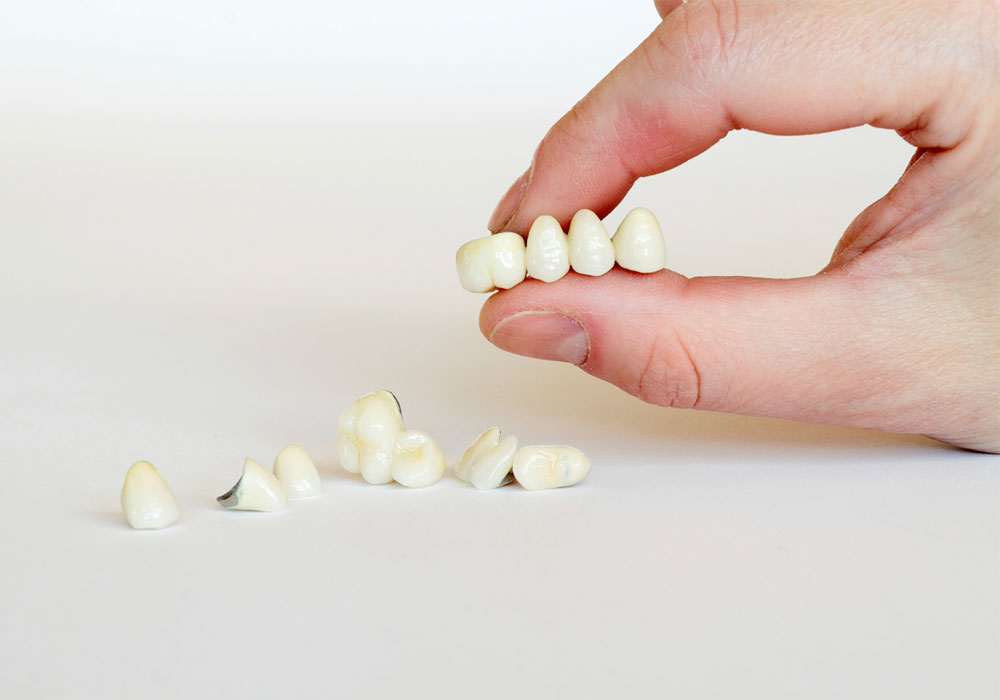 If your tooth is cracked or decayed, dental crowns can help to restore it. There are various types of dental crowns for every taste and pocket. Below, we provide you with some useful information about pros and cons of each type of porcelain crowns.
►Full-porcelain crown
Advantages
♦ Natural color
Unlike porcelain-fused-to-metal crowns (PFM), full-porcelain crowns don not have a problem of color due to they all made of white porcelain that perfectly imitates the natural tooth enamel.
♦ Cosmetic beauty
Full-porcelain crowns are translucent and smooth, matching the size, color and shade of the original teeth. Full-porcelain crowns are a perfect choice for the front teeth restoration.
♦ Non-allergic
Full-porcelain crowns are made of biocompatible material, so there is no risk of allergic reactions and gum irritation.
♦ possible to perform in one trip
Unlike other traditional techniques which require minimum two dental trips and some turn-around time between procedures, full-porcelain crowns can be done in one appointment when restore one or a few teeth and one trip for full jaw. After the tooth is prepared for the procedure, it takes 20 – 30 minutes to place a crown and cement it.
Disadvantages
♦ Fragility
Full-porcelain crowns are less strong and durable than their metal and porcelain-fused-to-metal counterparts. To make your porcelain crown is stronger and thinker, it is needed to grind more amount of you original tooth. Furthermore, full-porcelain crowns are more exposed to cracking and chipping. The fragility may not be a concern only in case you are going to place a crown on the front teeth that usually experience less biting and chewing force. Anyway, with full-porcelain crowns, you should be more careful when attending sport activities outside and biting hard objects concurrently wearing mouth guards during playing sport may help you to safe your porcelain crowns.
♦ Teeth sensitivity
With full-porcelain crowns, you are more likely to experience hypersensitivity to cold and hot. Extreme temperatures may cause crack and damage your teeth.
♦ Worse Fit
All-porcelain crowns feature worse fit than PFM crowns. You need a professional dentist to fit the crown correctly onto the place where the tooth meets the gum; otherwise, bad fit may negatively affect your tooth appearance and function.
► Porcelain-fused-to-metal crown
Advantages
♦ Aesthetic
PFM crowns provide you with a beautiful natural smile. Except the dark line which can be seen between the crown and the tooth, they look very similar to all-porcelain crowns.
♦ Durability
Cosmetic imperfection of PFM crowns is compensated by their strength and durability achieved due to a metal component. Indeed, PFM crowns have a high level of success and with proper brushing and flossing, they can last for many years.
♦ Better Fit
A metal structure provides a better fit than all-porcelain crowns.
♦ Reasonable Price
Usually, PFM crowns are cheaper than full-porcelain ones.
Disadvantages
♦ Dark Line on the Tooth
Along with the strength and durability, the presence of a metal component is the reason of a dark line which usually appears in the area where the crown meets the tooth. In case of the front teeth restoration, this could be a real problem. Moreover, if you have a gum recession, the dark line of metal could become more visible.
♦ More tooth trimming is needed
In order that place by PFM crown, the doctor should remove a significant amount of tooth, than with full-porcelain crowns. However, this is not always a concern. Consult your doctor to choose the right type of restoration suitable for you.
Note: the efficacy of the treatment can vary depending on each patient's condition.
For more information please contact:
I-DENT DENTAL IMPLANT CENTER
Dental Clinic - Ho Chi Minh City The Army Navy Swimming Pool
Building 19V Nguyen Huu Canh Str, Ward 19, Binh Thanh District, HCMC
Dental Clinic - Ho Chi Minh City An Dong
Building: 193A-195 Hung Vuong Str, Ward 9, District 5, HCMC
Phone: (+84) 28 38 33 68 18
Hotline: (+84) 94 18 18 618
Viber us or WhatsApp: (+84) 94 18 18 618
Website: http://www.identdentalimplantcenter.com
Email: identdentalimplantcenter@gmail.com
Tag:Dental crowns Ho Chi Minh City, Porcelain/ Ceramic crown price in Viental, Denal crown done by internation dentist in Vietnam, Porcelain dental clinic in Saigon, Saigon dental clinic, The best dental clinic in HCMC, Prestigious dentistry in Vietnam, Dental procedure pricing in Ho Chi Minh City/ HCMC.