The all-on-4 (all-on-four) procedure is a modern, effective and safe alternative solution to replace the whole of missing teeth. Instead of dentures, for dental implants are used to support a full denture bridge. With fewer implants required, the overall treatment time and costs are reduced.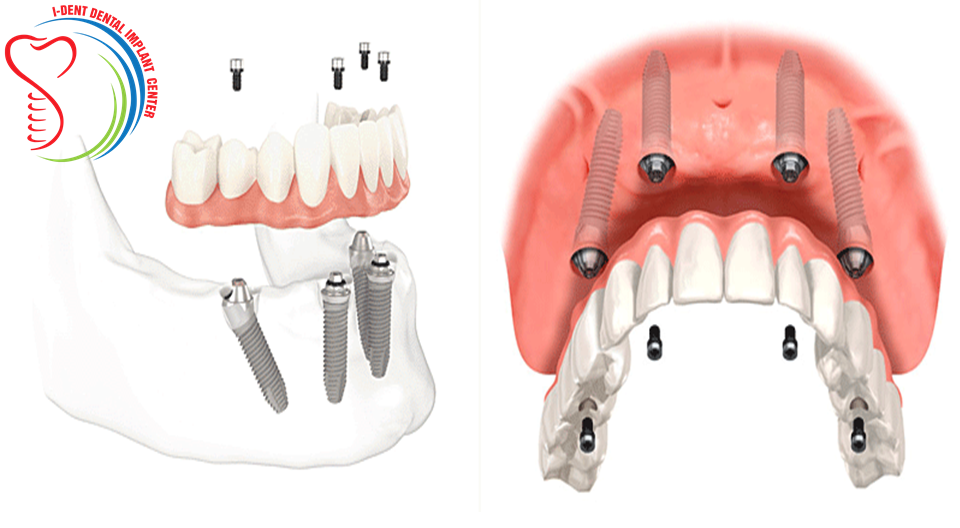 Bone grafting is typically unnecessary in this procedure. Therefore, you will not be subject to any discomfort or a long healing period. You will also be able to enjoy your new teeth on the day itself after the treatment. The new teeth will look after and feel very much like natural teeth and you can proceed with the daily routine immediately after surgery.
Benefits compared to regular dentures
The benefits of all-on-4 implants over regular dentures include:
Bone preservation – Dental implant helps to preserve the bone in the jaw. In comparison dentures can accelerate this bone loss due to the pressure of the denture sitting on the gums and the underlying jawbone.
Increase comfort - The restoration is supported by implants instead of gum tissue, so it does not rub or create sore patches.
Improved diet - Denture wearers need to avoid certain foods that are difficult or nearly impossible to eat because they are too hard or crunchy and could damage the denture. Implants are strong enough to withstand these forces, allowing you to eat a more healthy and varied diet and enjoy increased bite strength.
Improved self-confidence - Implant supported teeth do not move around when you eat or speak, so you can socialize without any fear of embarrassment resulting from your teeth moving or slipping out of position.
Improved appearance - Tooth and bone loss in the jaw affects facial dimensions and can make you look years older than you actually are. All-on-4 teeth are constructed to replace height lost in between your upper and lower jaws, and will support your cheeks and lips.
No need for messy adhesives - Teeth will be permanently fixed to the dental implants.
All-On-Four dental implant is especially appropriate for the following groups of people, who have, due to poor dental health, medical issues, accidents or ageing over the years:
- Are at risk of losing all their teeth
- Have lost all their teeth
All-On-Four dental implant fee:
Description
USD
Consultation
Free
Digital x-ray
Free
CT 3D Scanning
Free
Bone grafting
$ 300/ Unit
Sinus lift
$ 300/ Unit
All-on-4 dental implant
$ 6000/ Arch (Germany implant (MIS C1))
All-on-4 dental implant
$ 9000/ Arch (Switzerland Implant (STRAUMANN SLActive))
*NOTE: The fees do not include 10% VAT