At I-DENT Dental Implant Center uses the advanced materials which fabricate cosmetic crowns. Non-metal porcelain crown and precious metal porcelain crown are the leading type of porcelain crown at I-DENT Dental Implant Center.
Your smile can be your crowning glory with the help of a dental crown. A crown is a restoration that completely covers or cap teeth, restoring them to their natural size, shape and color.
A crown can help to strengthen teeth that are weakened by, for example, large cavities. They may also be used to cover teeth that are discolored or badly shaped. As part of the treatment for replacing missing teeth, dental crowns can also be used to attach bridges and to cover dental implants.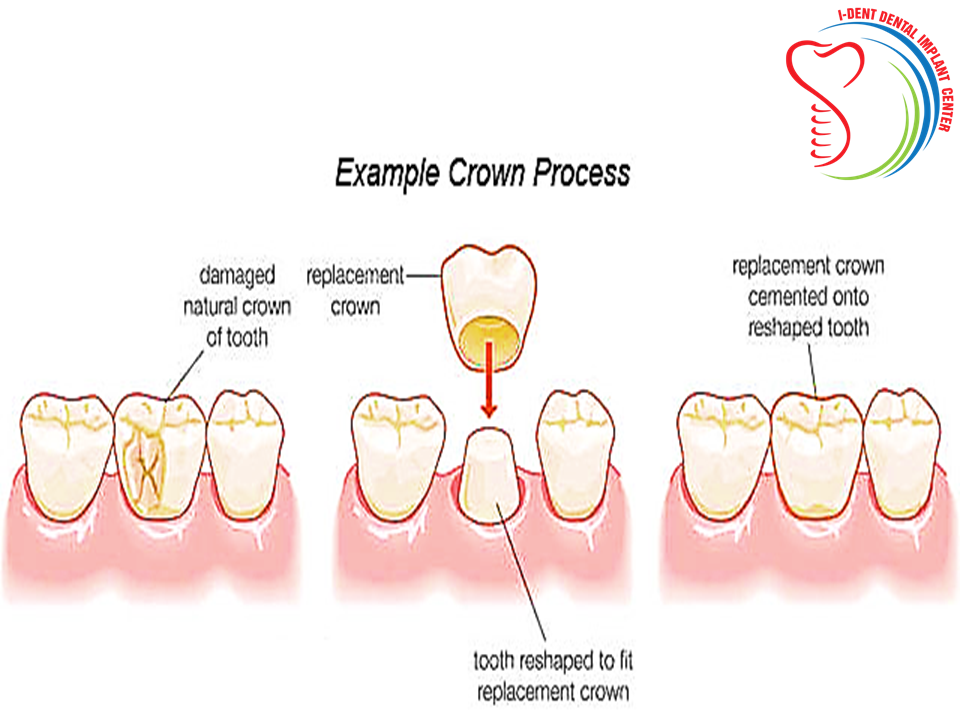 I/ Porcelain fused to ceramic crowns – PFC (Titanium/ gold/ platinum)
The porcelain fused to ceramic crown uses metal material such as Titanium to make the inside framework. Porcelain fused to ceramic crown has fresh color and similar as natural crown. In addition, the durability of precious porcelain crown is really high and after using many years, the gum line in tooth collar region will not be oxidised.
Pros:
-Gums always keep pink color due to porcelain fused to ceramic crown will not be oxidized in the mouth environment.
- To prevent risk of tooth decay, the backlog of food and bacteria.
- The inside framework are made by metal, will have beautiful natural color, hypoallergenic, nontoxic, odorless, tasteless, easy to integrate with teeth and gums due to high biological compatibility.
- The porcelain fused to ceramic crown has the high antiseptic properties thanks to gold material.
II/ The non-metal porcelain crown (Zirconia/ Emax)
The non-metal porcelain crown is the newest type of porcelain crown at the moment. The pros of this kind of porcelain crown are the high hardness degree, high durability, the perfect aesthetic due to bright natural colors, not allergic and not oxidize.
The characteristics of Zirconia crown:
Zirconia is the formed by chemical reactions between Zirconium (Zr) and oxygen (O2). Due to good biological compatibility characteristic, Zirconia is used for medicine in general and dentistry in particular.
Furthermore, the exceptional characteristics of Zirconia such as: natural white, hardness & durability and abrasion resistant. The dentists have researched and applied Zirconia to develop in the dental field.
Restoration porcelain crown by Zirconia material is quite hard and high melting temperature. Therefore, making a Zirconia porcelain crown, cannot apply normally methods so we have to use dedicated system in dental field by CAD/ CAM methods (Computer-Aided Design/ Computer-Aided Manufacturing) to make a supporting framework for the outside aesthetic ceramic layers.
Restoration by Zirconia porcelain crown has various advantages:
- The high aesthetic.
- Not being oxidized.
- High biological compatibility.
- Can restore at different positions or make a long dental bridge more difficult and complex.
- Anterior and posterior teeth can be done.
- High precision and tight degree with the post core.
- Can bear chewing forces well.
- Long used time.
Dental crowns fees:
DESCRIPTION
USD
Consultation
Free
Digital x-ray
Free
Root canal treatment
$ 35/ Unit
Ceramco 3 (USA)(Metal porcelain crown) 3 years warranty
$ 43/ Unit
Titanium (Porcelain Fused to Metal Crown) 5 years warranty
$ 107/ Unit
Zirconia DDBio HS (Germany)
(Non-Metallic Porcelain Crown) 10 years warranty
$ 194/ Unit
DDBio HT (Germany)
(Non- Metallic Premium Porcelain Crown) 10 years warranty
$ 215/ Unit
Cercon HT (Germany)
(Non- Metallic Premium Porcelain Crown) 10 years warranty
$ 259/ Unit
Nacera Pearl (Germany)
(Non- Metallic Premium Porcelain Crown) 15 years warranty
$ 345/ Unit
Nacera 9MAX (Germany)
(Non- Metallic Premium Porcelain Crown) 20 years warranty
$ 388/ Unit
Dental porcelain veneer
$ 259/ Unit
Metal post core
$ 8/ Unit
Zirconia post core
$ 86/ Unit
Temporary tooth
Free
*NOTE: The fees do not include 10% VAT