Dental Implant is the most comprehensive solution and safety at present to recreate new tooth which is similar as a healthy natural tooth, reaches more than 95% of chewing function and possibly restore new tooth as desired. In the techniques of dental implant and implant surgery are performed in the same time which known as immediate implant and will be applied after tooth extraction in order to patients can have a new tooth perfectly in the shortest time.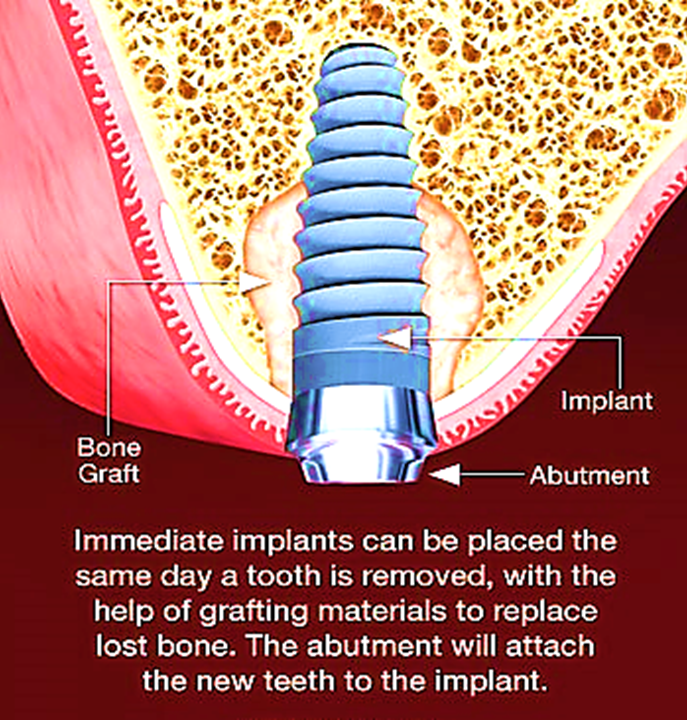 Criteria to place immediate implant
There are two elements need to be considered before the patient becomes a candidates who can respond enough conditions for immediate implant replacement after extraction.
- The infection issue: if the patients are suffering oral diseases which related to the gum or inflammation, they need to be treated before implant replacement.
- The jawbone dentistry issue: if the volume and quality of the jowl is not sufficient to support the bone integration and as the fulcrum for the implant post, the dental implant will not be placed. In case, the bone dentistry declining has occurred or the implant may not be placed because of instability so the patients need to underwent a period of healing and may be even bone grafting procedure before dental implant placement.
The advantages of immediate dental implant placement
+ Saving time: need only a time to perform the surgery for tooth extraction and implant placement.
+ Saving costs: alveolar bone unscathed when extract tooth so just need less bone grafting or avoid bone grafting for implant placement.
+ Reducing pain and especially keeping facial muscles unaffected, retaining natural features and balancing for the face due to have the immediate implant replacement after tooth extraction.
Using immediately after implant placement
Basically, dental implant treatment will have been performed through two stages, the first relates to installing the implant which have to wait for three to six months to bone integration as well as healing. During the healing time, the patients will be placed temporary tooth until the permanent porcelain restorations can be allowed to attach to the implant post.
Nowadays, there is an alternative method for the two stages at above that the patients are allowed to place a single implant in to jowl after tooth extraction and the treatment outcome is rehabilitated immediately aesthetics & function. This new approach is simplifies dramatically treatment stages to lead to the patient's experiences in treatment process will be more shorter and less complicated than traditional implant method. However, to become a suitable candidate for immediate implant approach will depends on the general oral health, quantity of lost teeth, which positions need to be replaced or quality & dimension of jawbone. Those elements will influence on how many times the patients have to visit dentistry, which implant method will be applied and how long the treatment plan will occur
At I-DENT Dental Implant Center, the patients will be absolutely satisfied with the international dental service standard including: a team of professional doctor, modern equipment, advanced techniques and the welfare policies for patients about warranty and dental treatment planning concurrently enjoy a comfortable treatment space along with the dedicated service and thoughtful of all staffs which will bring back a perfect treatment outcome as your desire.